Outdoor Fabrics Maintenance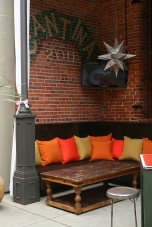 With proper care and maintenance, Your outdoor fabrics will give you year after year of lush color and service with proper care and maintenance! Here are a few tips that should keep your fabrics looking great:
1. We recommend bringing your outdoor fabrics indoors or under an awning when excessive rain is expected. Although our fabrics are meant to stand up to all weather conditions, saturating the fabric with water will make it take much longer to dry.
2. If your outdoor cushion gets wet, simply wipe it down with a towel to remove excess water. If your patio umbrella gets wet, close it, wipe down with a towel, and let it air dry. Open the umbrella up again for best results.
3. Most outdoor fabrics are mildew resistant; however, mildew will grow on dirt and oil. Keep your fabrics clean by using a solution of liquid soap and warm water to clean away dirt and dust.
4. Keep suntan oil off your outdoor fabrics. Suntan oil can stain outdoor fabrics. If stained with suntan oil, remove by using a commercial spot remover. Follow the instructions on the bottle.
Outdoor Fabrics Are Durable And Maintainable
5. Try to put your pillows or cushions made with outdoor fabric away when not in use. Storing your outdoor fabric products will increase the time your fabric stays new and vibrant. Take your cushions and pillows in for winter, then let them back out again for summer.
6. Before cleaning your cushion, remove from frame. Spot clean with mild soap and water. Rinse with clean water.
7. To prevent mildew, dry your outdoor cushions completely before storing.