Color Trends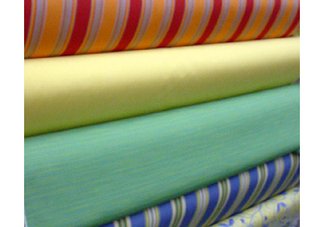 Color palettes will change over the years. One thing is for certain, that you can usually identify what style trend could be next by taking a peak into the past. What colors and textiles work for the upcoming season is slowly being revealed through TV shows and magazine articles. There seems to always be a trend setter. Where it starts no one really knows. So here's the question, "What's the hot color palette this season?" One color that really seems to be a designer's favorite this year is gray. Essentially gray is becoming the new beige, especially in wall paint. It seems drab on its own but the right tone of gray has a great way of transforming a room. Paired up with citrus colors, cool blues and warm browns and greens, gray adds a fresh look to your design.
Creams and whites seem to be making a comeback especially in the use of furniture and bedding. There is an heir of sophistication when you blend white and creams with more saturated accents around your room. Light ivories and pearl tones are easy to combine with any color so it's actually quite easy to pull off. If you want a cleaner contemporary look use one or two accent colors. Black and charcoal gray are common contemporary colors but if you add a surprise or punch of citrus or fuchsia, you can make your room more interesting.
For those who lean towards the traditional side of design, there are ways to still incorporate these hot palettes in such a way that it's not so contemporary but more modern traditional. When I think of traditional, I think of dark leather furniture, heavy drapes with tassels and ornate rugs. Try to imagine those draperies in a lighter weight fabric and softer color. Silk fabrics are great for bouncing light around the room especially chosen in lighter tones like pearl and gold. Shear curtains are also a great choice.
Leather furniture is fine but don't overload your space with too much of it unless it's a lighter tone of leather. If you don't plan to purchase new furniture let your fabrics give the modern touch you need. For instance, a heavy brown couch with cream or taupe upholstered fabric pillows will make the room feel open.
Remember, dark colors tend to absorb light while the lighter you go in tone the more airy the rooms feels. Stay away from matching every piece of furniture. Take time looking for specific pieces that have the same tonal quality that you are trying to express but have their own unique design quality from other items in the room. This will give you a modern traditional room with way more individuality and flare.
This season's color combinations for you to consider include:
Creams with accents of turquoise, jade greens, reds or fuchsia
Grays with accents of citrus yellows, citrus greens, bright blues, blacks and reds
Salmon or Corals (orange) with accents of browns, reds, yellows and greens
Remember to incorporate pattern and stripes into your design palette. These will help bring depth and dimension as well as add more flavor and zest to a room.
For helpful ideas go to our How to Coordinate Colors page.
article by Anita M Winter