About Robert Allen Fabrics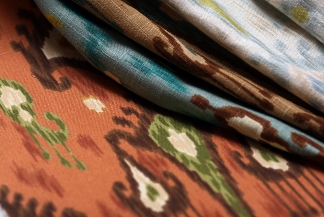 For over 70 years, The Robert Allen Group has been the source for the world's finest fabrics. Long recognized as the vanguard of innovation, the Company pioneered the broad distribution of fabric books. The renowned Robert Allen Color Library, with its exceptionally effective method of organization by color, was another industry first introduced by the company.
Robert Allen leads the decorative fabric and home furnishings market with products inspired by our devotion to quality and innovation. They have built a creative tradition rooted in exploring the nuances and subtleties of color. Robert Allen's collections are renowned for the exceptionally wide range of colors, patterns and constructions.
Robert [email protected] offers coordinated print and woven collections which are designed with an aesthetic and user-friendly focus on what fits comfortably into the home. Made for the design-savvy customer, each collection is completely coordinated by color and lifestyle, and offers the latest in design trends. Robert Allen offers many fabric styles made of a variety of materials. Some fabrics are suitable for drapes, while others are only recommended for pillows or cushions.
Robert Allen is the leading fabric house of the interior design community. Their creative tradition of exploring the directional trends of color and its subtle nuances ensures carefully chosen palettes that are at once comprehensive and selectively edited.
For more information about Robert Allen Fabrics, visit http://www.robertallendesign.com/.
View Robert Allen Fabrics